Scuba diving is an exhilarating and unforgettable experience that can take you to stunning underwater worlds. However, before you start your underwater adventure, it's essential to find a dive center that you trust. One of the most important things every diver needs is a dive center that they trust. As a new diver, it can be challenging to spot the red flags, so we'll list the top 3 things to look for
Their Rental Equipment Is Not In Good Shape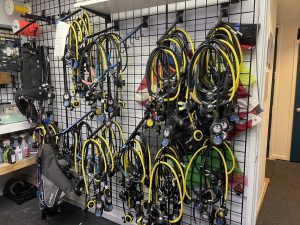 As a new diver, equipment problems might not seem like a big deal, but a leaky Buoyancy Control Device at depth can turn a fun dive into a dangerous situation. Look for faded gear or signs of wear. These are signs of age and neglect. Check rental wetsuits for rips or tears. A ripped wetsuit won't keep the water next to your body where it traps the heat. If it won't do the job, there's no sense in paying for it.
To stay safe, look for a dive center that takes equipment maintenance seriously. When in doubt, before you rent any gear, ask when it was last serviced.
If you are a student, you will spend time in the pool or controlled environment before you do your open water dives. If any of the gear is not working the way you think it should in the pool, exchange it before you do your open-water dives. A trustworthy dive center will swap out your gear promptly and provide you with properly functioning equipment. They'll also be happy to answer any questions you have about their cleaning and maintenance protocols to ensure your safety.
Don't let equipment issues ruin your dive experience. Keep an eye out for signs of wear and tear, and choose a dive center that prioritizes safety and maintenance. Remember, a little diligence can go a long way in ensuring a safe and enjoyable dive.
Lack of Proper Paperwork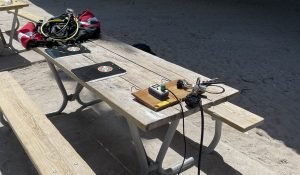 Whether you are getting ready to go diving or getting ready to start a class, one of the first things a reputable dive center will do is ask you to fill out paperwork. This is an important step that should not be skipped.
The paperwork usually includes a liability form. If you are a student, it will usually also include a medical questionnaire. It's crucial that you fill out the medical questionnaire honestly and completely. If you have a medical condition that could affect your ability to dive, you'll need to get clearance from a doctor before you can dive.
Most reputable dive centers these days allow you to fill out liability forms online before you even get to the dive center and pick up your gear. This saves you time and makes the process a lot more convenient.
No matter how you fill out the forms, make sure you do it thoroughly and truthfully.
If you're already a certified diver, all reputable dive centers will ask to see your certification card if you are renting gear or going diving with them. This is another important step that helps ensure your safety. If the dive center doesn't ask to see your card or doesn't have you fill out the necessary paperwork, that's a big red flag. It could mean that they're not taking safety seriously, and that's not a risk you want to take when you're about to go diving.
They're not affiliated with a training agency
As you start exploring the world of scuba diving, it's important to choose a dive center that's affiliated with a recognized training agency. Even if you are not planning on training with them, the fact that they are associated with a training agency means that they have met that agency's standards for safety.
You'll come across familiar agencies like:
PADI
SSI
SDI/TDI
RAID
GUE
NAUI
All of these organizations share the common goal of training safe divers. These agencies are overseen by a council called the WRSTC, which sets standardized entry-level courses.
Choosing a dive center that works with a training agency means they're held to a high standard of safety and service. You'll also have a higher authority to report to if anything goes wrong.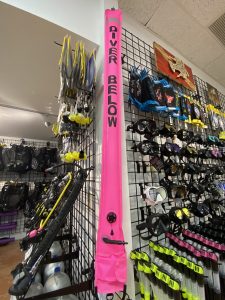 Not all dive centers are created equal, even if they're affiliated with a specific agency. To make sure you're working with a trustworthy dive center, look for these signs: they should have clear affiliations with a recognized training agency and ask you to fill out important paperwork like a liability form and medical questionnaire. You should also be asked to present your certification card if you're already a certified diver.
If something feels off, you can check the dive operator against the training agency's website for verification. Stay safe and dive smart by choosing a reputable dive center with a recognized training agency affiliation.
Wrap Up
A trust worth dive center is important for every scuba diver. They are where you go for training, major gear purchases, and most importantly, questions. If you don't trust the dive center you are currently working with, shop around. Most areas have more than one dive center. Maybe you just haven't found the right one yet.

Join Our Mailing List For New Scuba Divers
If you like this tip for new scuba divers, join our mailing list. You'll get a new tip delivered to your inbox each week. Learn to dive confidently!