In 2013, PADI voted the Blue Heron Bridge the #1 shore dive site in the United States. It truly is a beautiful dive site and a favorite for beginners and experts alike. On any given weekend, it is not unusual to see not only classes taking place at the bridge, but also seasoned divers gearing up to float along the "Snorkel Trail".
The Blue Heron Bridge is a favorite spot for underwater photographers as well because of it's abundant wildlife. Every week new and beautiful images are posted on the Blue Heron Bridge Preservation Society group on Facebook.
Location of the Blue Heron Bridge Dive Site
The Blue Heron Bridge dive site is accessed from Phil Foster Park in Rivera Beach, FL – US. The street address is :
Phil Foster Park
900 Blue Heron Blvd
Rivera Beach, FL 33404
Most divers dive on the East side of the park and congregate near the East Life Guard Station. While not as popular, it is possible to dive the West side of the bridge. Since there are fewer divers, there tends to be more micro life like seahorses.
Today's Tide at the Blue Heron Bridge
A Typical Dive at the Blue Heron Bridge
Honestly, there is no typical dive at the bridge. Different divers dive the bridge for different reasons and the purpose of the dive dictates how you proceed.
Experienced divers dive the bridge because they can get ninety minutes plus of bottom time. Time enough to see everything at a leisurely pace.
Underwater photographers dive the bridge because of the wide variety of small aquatic life available and beautiful scenery that make for memorable pictures.
New divers – or divers that haven't been in the water in a while – love diving the bridge because it is a very easy, stress-free dive. Divers can focus more on practicing their skills or enjoying the aquatic life than being nervous about diving.
Student Divers – The Blue Heron Bridge is a favorite training site for all of the local dive centers. On any given weekend day it is not unusual to see between 3 and 10 classes being conducted. These are soon-to-be certified divers that can enjoy the world beneath the waves on their own.
Most dives at the bridge do share some common characteristics. This is how many divers dive the bridge if they are just looking to enjoy the aquatic life.
Enter the water between 60 and 90 minutes before high-tide
Float along the snorkel trail sandwiched between the swim area and the boat channel
Turn and float up under the bridge and out the other side
Turn with the tide and float back up under the bridge
Exit the water around 30 minutes after high-tide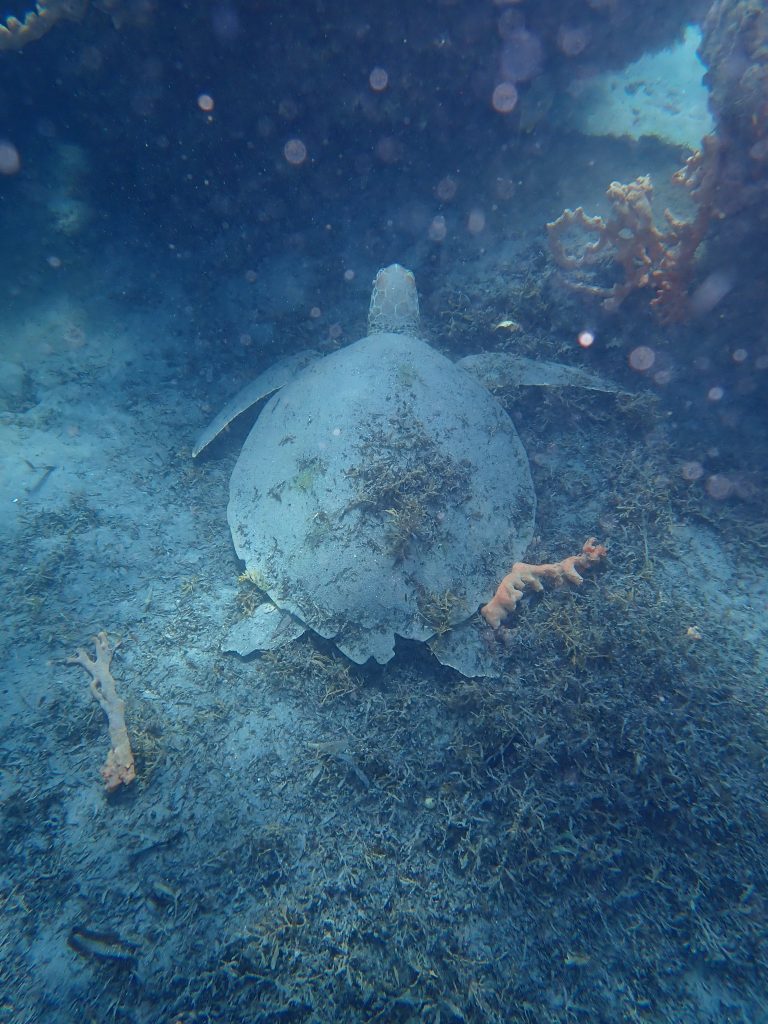 Things You Need to Know to Dive the Blue Heron Bridge
If you are a new diver or new to the area, diving the bridge is an easy, no-stress dive. Divers come from around the country to experience it. On any given weekend, the bridge will be teaming with divers and beachgoers. Because of this, there are a few things that you need to know before you get there.
Arrive Early
Parking is free at the Blue Heron Bridge but spaces are limited. Parking spaces near the beach portion of the bridge are severely limited. It is not unusual to see divers arriving at 7:30 in the morning for an 11:30 AM high tide. On any given weekend day, for an 11:30 high-tide, parking at the beach is full by 8:00 AM and it is not unusual for the Palm Beach Sheriff's Office (PBSO) to close the entrance to the park by 8:30 AM or 9:00 AM. If you arrive after they close the park you will have to find parking nearby and lug your gear in and out of the park on foot.
Check the high-tide time on my Blue Heron Bridge Tide Tables page. Plan on arriving at least 3 hours before high tide and 2 hours before you enter the water.
Bring breakfast, or bring a good book to read. Secure your spot and then enjoy the beauty of the day.

Be Polite
Many different groups of people enjoy using the bridge. Divers share the bridge with sun-bathers, families, religious groups, and picnickers among others. All of us have to get along for the day to be enjoyable for everyone so be polite and courteous.
This includes remembering things like don't block the walkways with your gear. If you backed your car up to the walkway and are gearing up out of your trunk or bed, remember that others have to use that walkway as well. Please leave a path.
If it's Not Going in the Water with you, it Goes in Your Car
Cell-phones, nice water bottles, expensive flip-flops, these are all things that Dive Masters sell on E-Bay. 🙂

— Uncle Cal
Because the bridge is a communal area, it is not safe to leave things on a picnic table as you go diving. This is one of the reasons arriving early and getting a good parking spot is important. Before you gear up, take stock. If it's not going in the water with you, put it back in your car.
If you were not able to secure parking in the park, take stock before you leave your car. Don't bring anything with you that you will have to trudge back to your car before you can dive.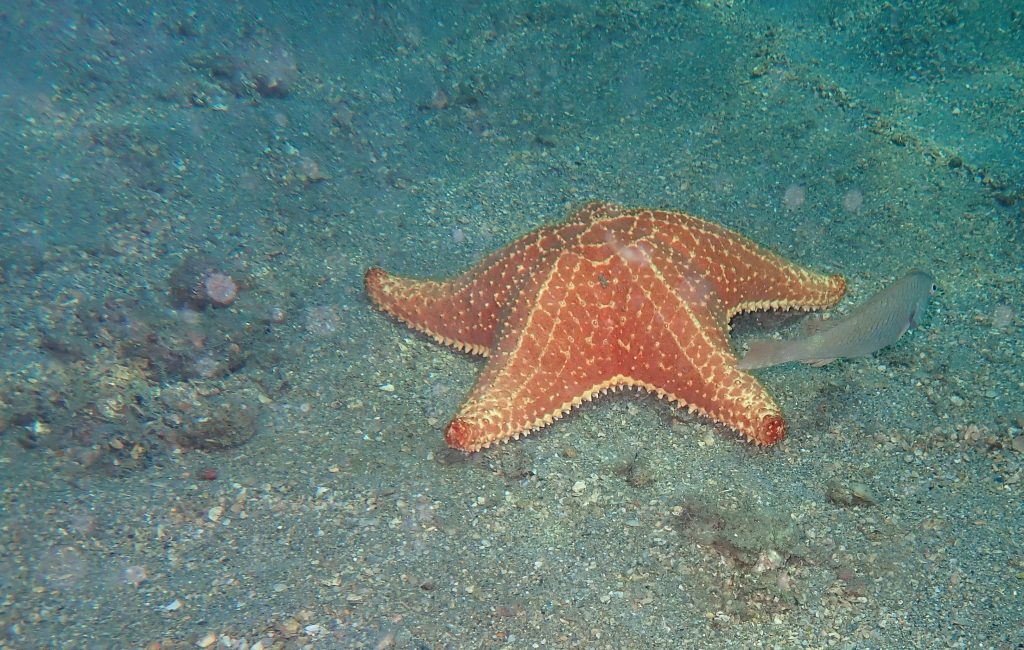 Stay in Your Lane
Specifically, stay out of the swim area and out of the boat channel. You are not allowed to be on your regulator while in the swim area. The lifeguards at the bridge are very nice people but they will blow their air horn at you and call you out if you break this rule.
Similarly, stay out of the boat channel. Again the lifeguards will do their best to help you follow this rule, but if you are underwater, you can't hear them. In extreme situations – and that usually means extremely clueless divers – PBSO has been seen to block the boat traffic in the channel until the lifeguard can paddle board out to the clueless diver and yank their flag out of the water, thus getting their attention.
Pay attention to where you are and if necessary, surface briefly to get your bearings.
Pay Attention to Your Buoyancy
The bottom at the bridge is usually 7-15 feet deep and it's a beautiful fine sand that if disturbed creates a murk in the water making it difficult for other divers to see. For this reason, most seasoned divers frog-kick when diving at the bridge to minimize the bottom disturbance.
Buoyancy is also important when you are near the artificial reef structures and sunken boats. Those are there to shelter life and give coral a place to take hold and grow. It is very important that all divers pay attention to their position relative to the structures and coral and to not touch or kick them. The only way to ensure that the bridge if a beautiful dive site for the next generation is if we all pay attention and not disturb it now.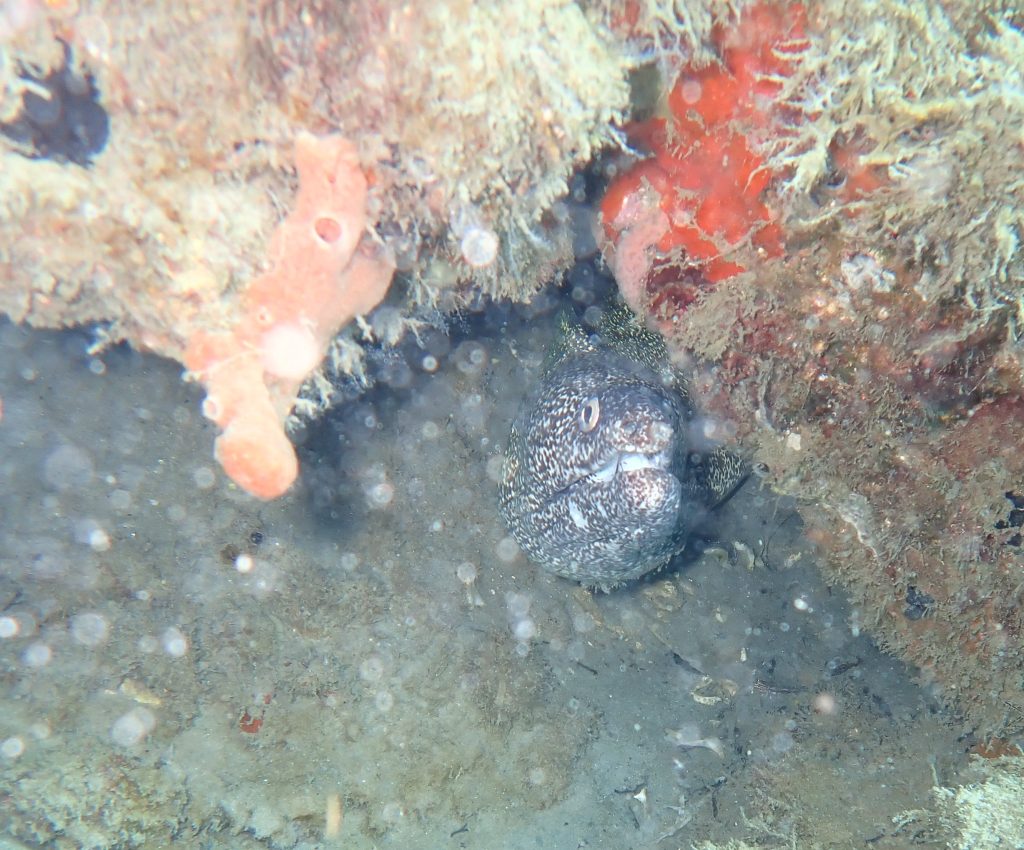 Required Gear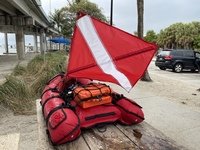 If you are a new diver or just new to diving in Palm Beach County, FL it is important to know that all diver groups are required to pull a flag when diving at the Blue Heron Bridge.
The accepted "diver down" flag in the United States is a square or rectangular red flag with a white diagonal stripe. It must be at least 12 inches by 12 inches in size for personal flags or 24 by 24 inches for boats. It needs to be on a mast and secured to a surface float. To make sure it is visible, a dive flag must have a wire or other stiffener to hold it unfurled and extended.
To pull or tow your dive flag you will also need a reel with a line. The maximum depth at Blur Heron Bridge is between 20 to 22 feet so any line 25 feet or longer will suffice.
Boaters must make reasonable efforts to stay 100 feet away from dive flags at the Blue Heron Bridge. Divers must stay within 50 feet of their dive flag.
Most local dive centers carry flags and reels and have them both for sale or for rent. If you are just visiting, stop by one of our local dive centers and rent a flag when you rent your tanks. If you are a local diver, you will find it more economical to buy your own flag if you are planning to dive the bridge more than a couple of times.
Enjoy the Dive
The bridge is a beautiful and stress-free dive. Once you get in the water and get settled, make sure you relax and just enjoy the dive. See the life all around you. Depending on your timing and your air consumption, you should be able to be underwater for 70 to 90 minutes on the average dive at the bridge.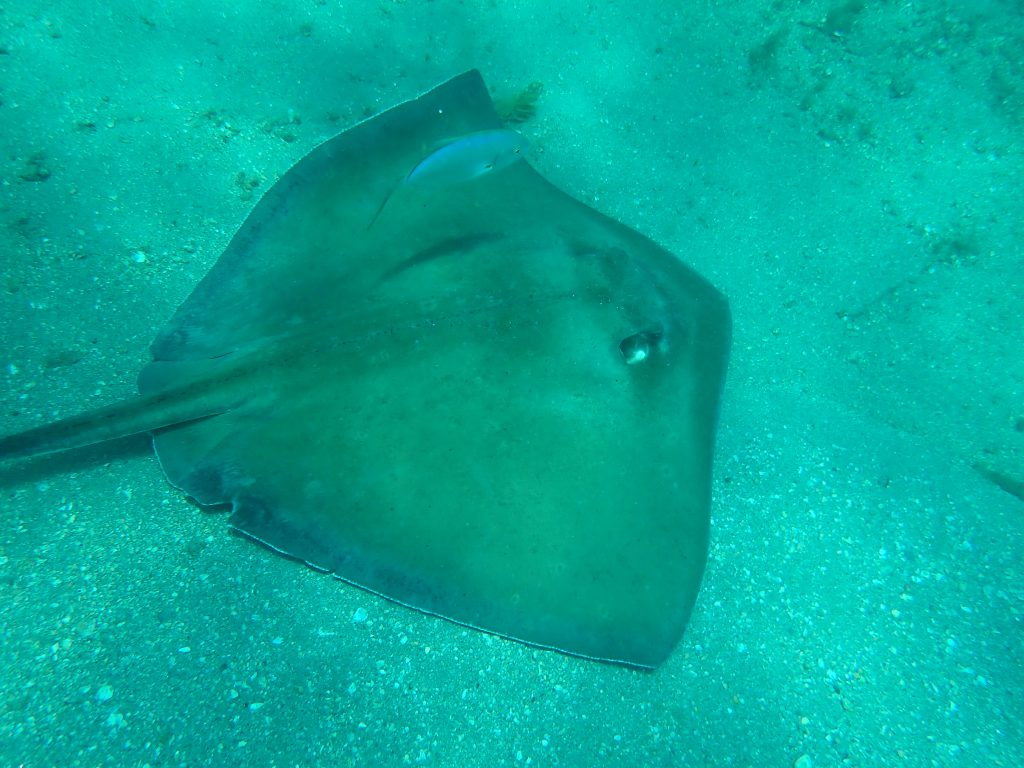 Rules and Regulations for Phil Foster Park
There are informational signs posted at the park, but they may not cover every scenario. Here are a few basic things to know:
Be aware of boat channels, traffic, and your position in the water relative to the channel
The Blue Heron Bridge is a protected site. Harassment and removal of marine life is prohibited
Fishing is only allowed in designated areas. Spearfishing and lobstering are not allowed.
Divers and snorkelers must have a proper dive flag, and must stay with it!
The park has a set of rules, including opening hours.
Night Diving at the Blue Heron Bridge
If you like the Blue Heron Bridge during the day, you are going to love it at night. It's a whole different dive at night.
Night diving at the Blue Heron Bridge is available by permit only. Luckily, all our local dive centers are permitted to conduct night dives. This means if you want to dive the Blue Heron Bridge at night, you have to contact one of the local dive centers and sign up. It's always free unless you are hiring a private dive guide. When you sign up, they will issue you a parking pass that you have to place on your dashboard so the Park Rangers won't issue you a ticket.
Regardless of what time the high tide is at night, all divers have to be out of the Blue Heron Bridge parking lot (not just the water) one hour after high tide or 10:00 PM, whichever comes first.
Restaurants Near the Blue Heron Bridge
While there are no eating establishments in Phil Foster Park itself, there are a few within walking distance. All of these are about half a mile walk from Phil Foster Park. Get to the park early, park your car, and stroll down to the shopping center for breakfast or lunch before your dive.
On mid-morning dives (10:00 AM-01:00 PM) on a Saturday morning, you can usually find me having breakfast at Mulligan's with the lovely and talented Kathy. I get to the bridge stupidly early to get good parking. She will come by, pick me up at some point and take me to breakfast. If you see us there, make sure and say hi.
Finding a Dive Buddy at the Blue Heron Bridge
If you are looking for a dive buddy to dive the Blue Heron Bridge with you, I can suggest a couple of things.
More Information about the Blue Heron Bridge
If you are looking for more information about the Blue Heron Bridge, check out this great article "Nine Things You Need to Know Before Diving Blue Heron Bridge"
Wrap Up
The Blue Heron Bridge at Phil Foster Park is a beautiful and easy dive. it is a great dive for new scuba divers or those who want to practice their skills while enjoying beautiful sea life. If you follow a few simple rules, you will have an enjoyable and safe dive.
If you are uncomfortable about diving the bridge with just your buddy, contact any of the local dive shops and ask to hire a Dive Master. All of them have Dive Masters who can help you get the most out of your dive.

Join Our Mailing List For New Scuba Divers
If you like this tip for new scuba divers, join our mailing list. You'll get a new tip delivered to your inbox each week. Learn to dive confidently!