Everybody Loves a Good Dive Vacation!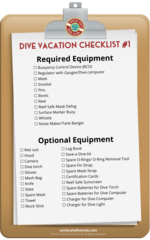 To make sure your dive vacation is the absolute best dive vacation you've ever had, you must bring all the right things. It doesn't matter if you are diving a liveaboard, or going to a dive resort for a week, there are some basics that all divers need to pack.

Our three pages of checklists will help you make sure you pack all your essential gear. They also help you to pack the things you might easily forget or not even think about.

Fill out the form below and we will send you your copy of Uncle Cal's Dive Vacation Checklists so you don't forget a single thing.