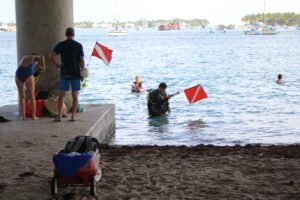 Diving enthusiasts, listen up! If you're looking for an adventure, then you can't miss out on the Blue Heron Bridge in Rivera Beach, FL – US. This spot is a diver's paradise and is considered one of the best shore dives in the entire country. But here's the catch, to make the most out of your dive, you need to time it perfectly with high tide. Lucky for you, we've got you covered with the Blue Heron Bridge Tide Tables for the next 30 days.
If you're new to diving the bridge, don't worry, we've got you covered too! Check out our article, A New Scuba Diver's Guide to Diving the Blue Heron Bridge, to get all the insider tips before you take the plunge.
If it's your first time diving this incredible spot, you're in for a real treat! But let's be real, it can be overwhelming diving into the unknown. Let me, Uncle Cal, be your guide to the most epic underwater experience of your life! I'll show you all the sights, make sure you stay on track, and ensure you have an absolute blast.
So, what are you waiting for? Grab your gear and pick your perfect day from the Blue Heron Bridge Tide Tables below. And hey, if you see me there, be sure to say hi!
Date
High Tide
AM
PM
Wed 03-29-2023
03:05
03:14
Thu 03-30-2023
04:07
04:19
Fri 03-31-2023
05:06
05:19
Sat 04-01-2023
05:57
06:12
Sun 04-02-2023
06:41
06:58
Mon 04-03-2023
07:22
07:41
Tue 04-04-2023
07:59
08:21
Wed 04-05-2023
08:36
09:01
Thu 04-06-2023
09:12
09:40
Fri 04-07-2023
09:48
10:21
Sat 04-08-2023
10:25
11:02
Sun 04-09-2023
11:04
11:47
Mon 04-10-2023
11:48
--
Tue 04-11-2023
12:37
12:38
Wed 04-12-2023
01:33
01:37
Thu 04-13-2023
02:35
02:47
Fri 04-14-2023
03:43
04:02
Sat 04-15-2023
04:49
05:13
Sun 04-16-2023
05:49
06:16
Mon 04-17-2023
06:43
07:13
Tue 04-18-2023
07:33
08:05
Wed 04-19-2023
08:21
08:55
Thu 04-20-2023
09:07
09:42
Fri 04-21-2023
09:51
10:27
Sat 04-22-2023
10:34
11:11
Sun 04-23-2023
11:18
--
Mon 04-24-2023
--
12:02
Tue 04-25-2023
12:42
12:48
Wed 04-26-2023
01:30
01:40
Thu 04-27-2023
02:22
02:37
Prepare to be amazed! The Blue Heron Bridge is an underwater paradise that will leave you breathless (in a good way!). With so much to see and explore, you'll want to make sure you plan ahead to make the most of your bottom time.
You can also check out PADI's page, "The Blue Heron Bridge", for all the insider tips and tricks.
But wait, there's more! There are a few "don't miss" sights you simply have to see, as well as a few tricky spots to watch out for. If you're new to the bridge, don't take any chances. Hire a local dive guide to ensure you have the most incredible experience possible.
And let's not forget about the amazing community of divers that gather at the Blue Heron Bridge on a regular basis. If you're planning on making this a regular spot, be sure to hang out with us and introduce yourself. We're always eager to meet new people and hear about their diving adventures.
So come on, take the plunge, and let's explore the wonder that is the Blue Heron Bridge!