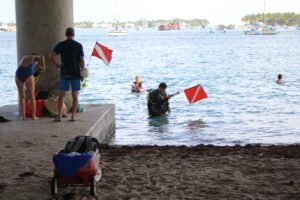 The Blue Heron Bridge at Phil Foster Park in Rivera Beach, FL – US is one of the best shore dives in the US. To get the most out of it though, you need to time your dive to coincide with high tide. Below you will find the high tides for the next 30 days.
If you have never dove the bridge before, you can get everything you need to know before you go from our article, A New Scuba Diver's Guide to Diving the Blue Heron Bridge.
If you already know how to dive the bridge, check the charts below, and pick your day, and make sure you say hi to us when you get there.
Port of West Palm Beach
NOAA Station Id :8722588
Sun 01-29-2023

light rain

1st Quarter
Moon

| Rise | Set |
| --- | --- |
| 12:22 PM | 01:17 AM |
Mon 01-30-2023

light rain

Waxing Gibbous
Moon

| Rise | Set |
| --- | --- |
| 01:01 PM | 02:15 AM |
Tue 01-31-2023

light rain

Waxing Gibbous
Moon

| Rise | Set |
| --- | --- |
| 01:44 PM | 03:13 AM |
Wed 02-01-2023

light rain

Waxing Gibbous
Moon

| Rise | Set |
| --- | --- |
| 02:31 PM | 04:09 AM |
Thu 02-02-2023

light rain

Waxing Gibbous
Moon

| Rise | Set |
| --- | --- |
| 03:22 PM | 05:02 AM |
Fri 02-03-2023

light rain

Waxing Gibbous
Moon

| Rise | Set |
| --- | --- |
| 04:16 PM | 05:51 AM |
Sat 02-04-2023

Waxing Gibbous
Moon

| Rise | Set |
| --- | --- |
| 05:12 PM | 06:35 AM |