As a new scuba diver, a whole new world is waiting to be explored beneath the surface. We've curated a list to enhance your understanding and appreciation of the underwater realm. These new scuba diver books contain knowledge that is important for every new scuba diver. They will enrich your knowledge and deepen your appreciation of the world beneath the waves. So, let's dive in, let's discover the books that will take your underwater adventures to new depths.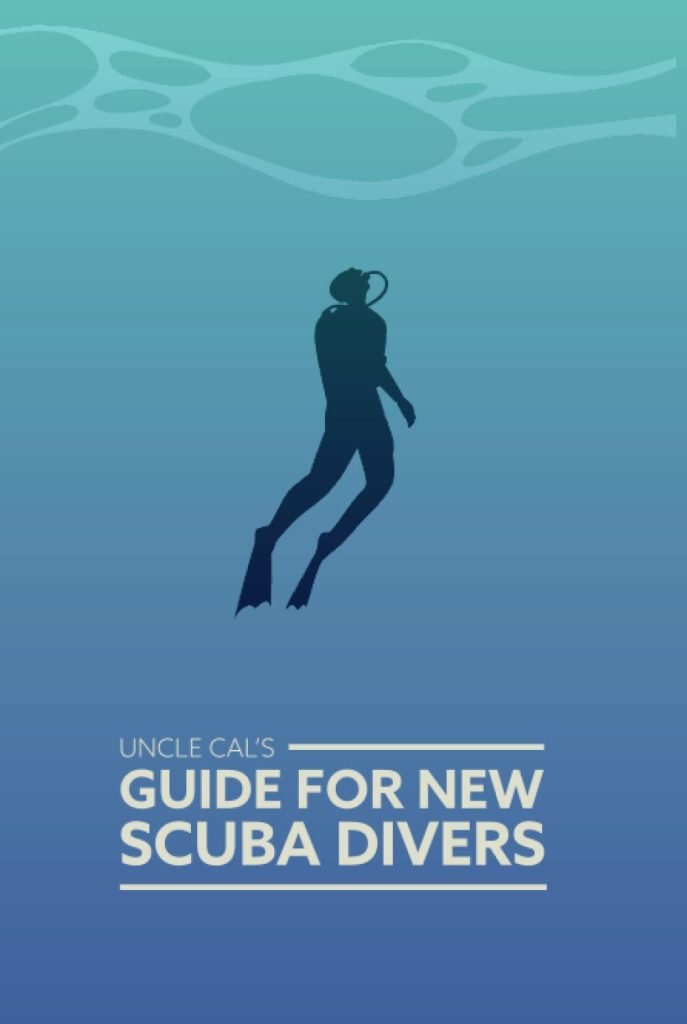 First I'll start with my book. I think every new scuba diver should have this book. It's packed with answers to questions I had when I was a new diver, as well as answers to questions I get from my students. "Uncle Cal's Guide for New Scuba Divers" is a great resource for new scuba divers. It is specifically tailored for beginners who are eager to explore the world of scuba diving. With my expertise and practical advice, new divers can embark on their underwater journey with confidence.
From gear selection and dive planning to underwater communication and buoyancy control, this guide has you covered. It provides valuable insights and practical tips for mastering the essential aspects of diving. Whether you're a beginner or looking to improve your skills, this guide is a valuable resource. With its friendly and accessible writing style, Uncle Cal's Guide feels like having a trusted mentor. It provides valuable guidance and insights as you navigate the exhilarating world of scuba diving. With Uncle Cal's expertise, you'll feel confident and prepared to embark on your underwater adventures.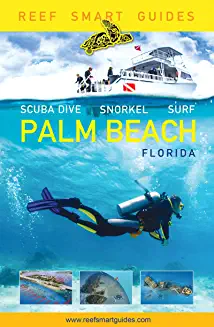 Next is the "Reef Smart Guides". If you are going to dive in a given area for a week or more and there is a "Reef Smart Guides" for that area, invest in it. Personally, I own the one for Palm Beach Florida and refer to it every other weekend. It not only assists me in planning dives but also in discovering new sites that I've not yet explored. Each guide is meticulously crafted to offer detailed information on some of the most remarkable dive sites around the world. Each guide is tailored to a specific destination. It offers valuable insights into the local marine life, topography, and points of interest. With stunning imagery, helpful maps, and practical tips, these guides become your trusted companions. They assist you in planning your dives, exploring hidden gems, and making the most of your underwater excursions. your go-to resource. These guides provide invaluable insights and tips for exploring world-class dive destinations. With the Reef Smart Guides, you can make your underwater adventures truly unforgettable
Personally, my log book is full of the plastic wreck maps that Reef Smart Guides produces. Every time I dive a wreck, I order a map as a souvenir. By utilizing the guides, I can navigate the underwater terrain with confidence and uncover hidden gems in the depths.
Before you head out on your next dive vacation to a place like Bonaire, get your reef guide so you can know the dive sites before you get there.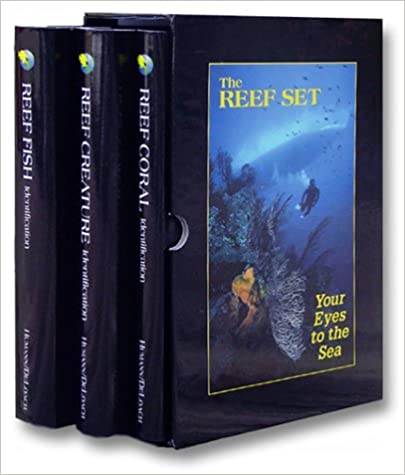 If you live near the Caribbean, vacation regularly in the Caribbean, or just like beautiful pictures and information about Caribbean fish, this is the reference guide for you.
Immerse yourself in the vibrant and diverse world of reef fish and coral species with "The Reef Set: Creature Coral Volumes." This comprehensive guide is written by renowned marine biologists. It provides an in-depth exploration of the fascinating marine life you'll encounter while diving.
From colorful fish to intricate coral formations, this book set offers a visual delight. It is accompanied by informative descriptions and ecological insights to enhance your understanding.
It serves as a valuable resource for identifying species, understanding their behaviors, and appreciating the delicate balance of marine ecosystems. Whether you're a beginner or an experienced diver, these volumes are invaluable resources. They will enhance your ability to recognize and appreciate the wonders of the underwater world.
If you are planning on diving into the gin-colored waters of the Caribbean or South Florida down through the keys, this is an indispensable set of books. I bought the entire set for the lovely and talented Kathy when we started diving and she still references them to this day.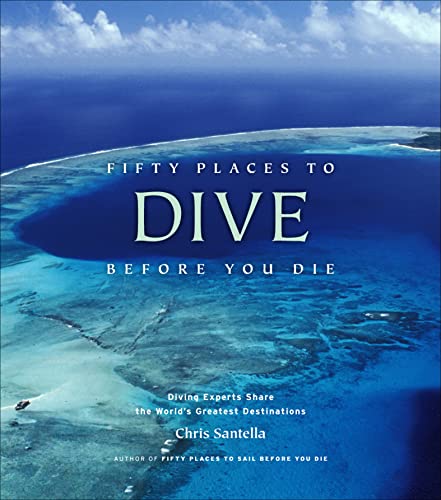 In "Fifty Places to Dive Before You Die," Chris Santella brings together diving experts to reveal an array of captivating underwater wonders, from the vibrant marine life near Papua New Guinea to the intriguing naval wrecks of Bikini Atoll. This book is an essential guide for avid divers seeking to explore these remarkable destinations, whether in person with their SCUBA gear or through the lens of their armchair. With stunning photos and insightful recommendations, Santella takes readers on a journey to hot-spot locations like Raja Ampat and Grand Cayman, introducing them to incredible creatures such as whale sharks, wolf eels, and mola mola. Complete with helpful travel suggestions, this book is a must-have for anyone eager to embark on their own underwater adventure.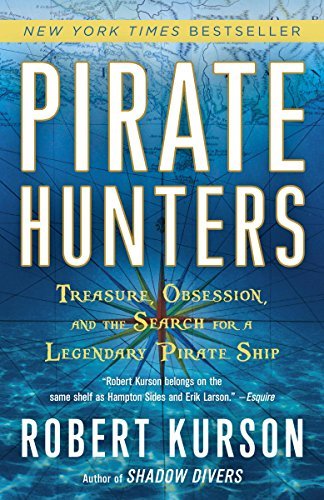 Got a long flight coming up on your next scuba diving vacation? Grab "Pirate Hunters" and make the time fly by. This is a great story that is well told.
Get lost in a tale revolving around the golden age of pirates. Pirate Hunters reads like an adventure novel but it's the true story of two men—John Chatterton and John Mattera—who are willing to risk everything to find the Golden Fleece, the ship of the infamous pirate Joseph Bannister. At large during the Golden Age of Piracy in the seventeenth century, Bannister should have been immortalized in the lore of the sea—his exploits more notorious than Blackbeard's, more daring than Kidd's. But his story, and his ship, have been lost to time. If Chatterton and Mattera succeed, they will make history—it will be just the second time ever that a pirate ship has been discovered and positively identified. Soon, however, they realize that cutting-edge technology and a willingness to lose everything aren't enough to track down Bannister's ship. They must travel the globe in search of historic documents and accounts of the great pirate's exploits, face down dangerous rivals, battle the tides of nations and governments, and experts. But it's only when they learn to think and act like pirates—like Bannister—that they become able to go where no pirate hunters have gone before.
Fast-paced and filled with suspense, fascinating characters, history, and adventure, Pirate Hunters is an unputdownable story that goes deep to discover truths and souls long believed lost.
BONUS BOOKS
If you've mastered the basics of scuba diving and you are wanting more, you need to get the most advanced certifications. These books are for those pursuing anything from Advanced Open Water to a dive professional certification.
There is no substitution for getting your Rescue Diver certification. However, everyone can still learn more. Once you have mastered the Rescue Diver certification, this is a great book to read.
One diver, after a seemingly brief period below the surface, discovers that his gas supply has run perilously low. Another, paralyzed, bobs helplessly on the surface, and when a poorly trained divemaster attempts rescue, things go from bad to worse. Two other divers, fascinated by the bountiful undersea life of the Caribbean, fail to notice that a powerful current is sweeping them rapidly away from their unattended boat.
These are just a few of the true stories you'll find in Diver Down, most of them involving diver error and resulting in serious injury or death. Each of these tales is accompanied by an in-depth analysis of what went wrong and how you can recognize, avoid, and respond to similar underwater calamities.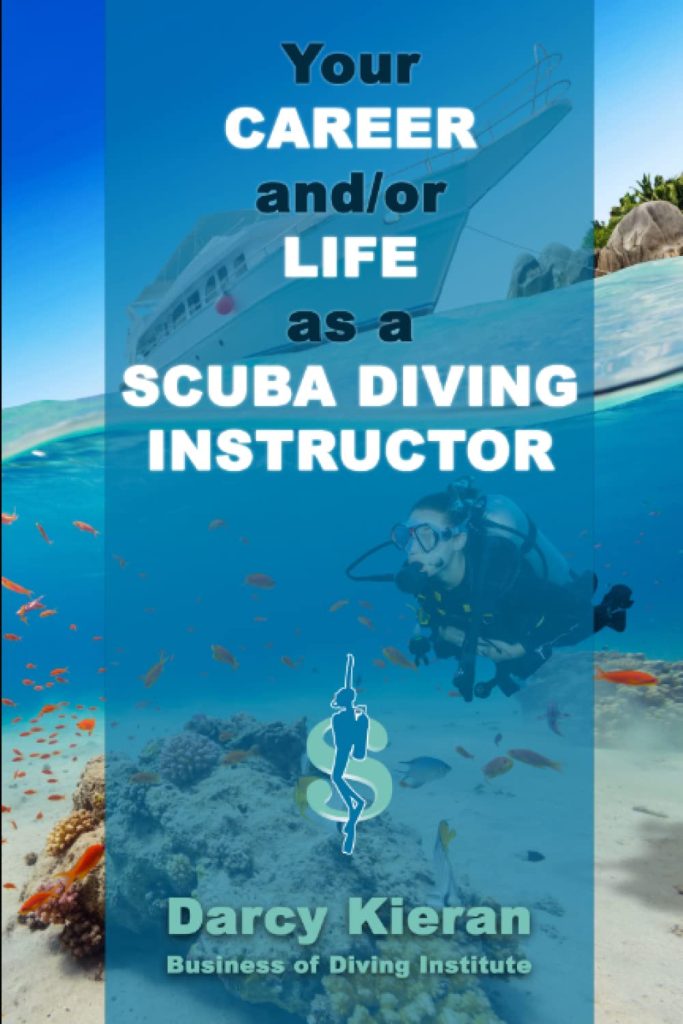 Ok, this one isn't a new scuba diver book but I'd be remiss if I didn't recommend it. If you have ever thought that you might be interested in more than just recreational diving. If the idea of being a Dive Master or an Instructor seems interesting to you, then you need to check out "Your Career and/or Life as a Scuba Diving Instructor: How to make a good living out of your passion for diving".
This comprehensive guide offers practical insights, expert advice, and step-by-step instructions on the journey to becoming a professional in the diving industry. From the necessary qualifications and training to the skills required for teaching and leading dives, Kieran covers all aspects of this rewarding career path. With a wealth of knowledge and experience, the author shares real-life anecdotes and tips to help readers navigate the challenges and embrace the opportunities of a scuba diving instructor career. Whether you are considering a career switch or are passionate about sharing your love for diving, this book serves as a trusted companion, providing the guidance and inspiration needed to pursue and thrive in the world of scuba instruction.
Wrap Up
Building a solid foundation of knowledge is vital to becoming a skilled, responsible, and confident scuba diver. The books for new scuba divers mentioned above provide valuable insights, expert guidance, inspiration for new divers, and of course tales of adventure. By immersing yourself in these resources, you'll gain a deeper understanding of marine life, discover incredible dive sites, and learn essential skills and techniques. These books make great companions on your surface interval. So whether you are diving your favorite lake, off your favorite boat, or at the beautiful Blue Heron Bridge, carry these new scuba diver books with you on your phone or tablet.
Grab these books today, dive into knowledge, and embark on a lifelong journey of exploring the world beneath the waves.

Join Our Mailing List For New Scuba Divers
If you like this tip for new scuba divers, join our mailing list. You'll get a new tip delivered to your inbox each week. Learn to dive confidently!