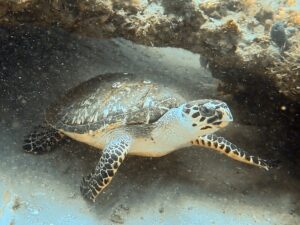 Deckhand: What did y'all see?

Me: We saw so many turtles that I stopped counting turtles at 10.
This was a conversation I had as we came up for our surface interval recently on a boat here in Jupiter, Florida. I was serious; I probably saw around 14-16, but I stopped counting at 10. For the record, we also saw 2 on the surface interval as they surfaced for air. It was a great day to be diving!
Over the recent holidays, I was explaining this to a family member who also dives. She was astonished. She does mostly Caribbean diving and in a good week, she may see a single turtle. Sure there are a lot of other things to see but to me, turtles are one of the most beautiful things under the water and my second favorite thing to photograph. (Other divers is my favorite thing to photograph)
Here in the Jupiter area during the beginning of turtle nesting season, it is not unusual to rack up these kinds of sightings or even more. Heck, even in the off-season, it's a disappointing dive if we don't see a single turtle.
Turtles are fascinating and here in the Jupiter area they are very important to us. So much so that we have our own turtle rescue facility, The Loggerhead Marine Life Center. This is where they take turtles that have been in accidents and need to rehabilitate. If you are coming to the area for a visit, make sure and make time to visit it and take the tour.
Most of our local dive centers in the area offer a "Turtle Awareness" class. These classes are a great way to learn how to identify the different species of turtles. You also learn what you can do to help protect the turtle population. All the classes I know of include dives off of a local dive boat so that you can put your new found information to the test.
If you don't want to be able to identify turtles beyond the basic "Hey look, a turtle!" then just book a trip out on most any of our boats. It won't take you long to see why I call this area Turtle City.
Until next time, Dive Confidently!
=C=
Cal "Uncle Cal" Evans
p.s. Want to learn more? Take one of our Turtle Awareness classes. Whether you are a local or you are coming for vacation, these classes are a great way to spend a day. Hit reply on this email and let me know. I'll give you the name of a couple of dive centers I know and trust that you can contact.
p.s.s. The standard answer here in Jupiter to "What did you see? is "3 turtles, 2 sharks, and a Mermaid." This is usually followed by "Pix or it didn't happen."